Women of Faith
The Women's Ministries at Faith Community desires to minister to the whole woman, helping her to be all that God purposes for her to be. It is our prayer that each woman find their true identity in Christ and connect with the family of God.
We provide opportunities for women to study God's Word, to heal, to serve, to grow, and to have fun together as sisters in Christ.
Join us weekly for prayer and personal ministry Wednesday mornings at 9 am.
Bible study follows prayer from 10:15-11:15 a.m. and runs throughout the school year. These studies vary in style and teacher, but always focus on growing in God's Word.
Yearly events include: the Yard Sale, Ladies' Night Out, Special Breakfasts, Craft Nights, and Ladies' Retreat. Women may also participate in the sectional and district Women of Purpose events.
Please feel free to call the church for more information on any of the events for ladies. If you need personal ministry we are here to minister to you.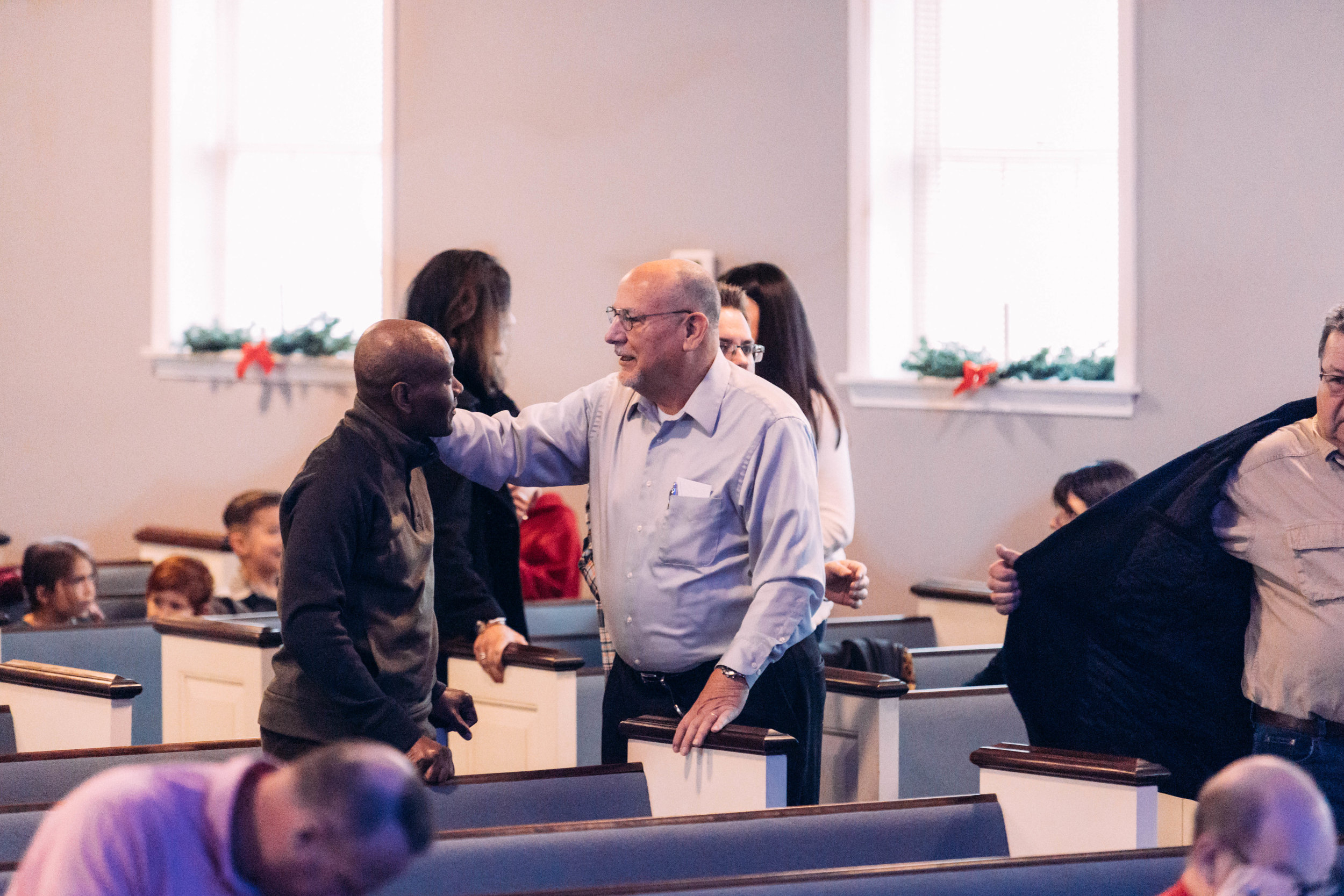 Men's Ministries
Men's Ministries is about Reaching, Teaching and Releasing men to grow to their full potential in Christ.
The men meet for prayer at 7am every Saturday at Faith Community and monthly for breakfast at the Williams Family Restaurant on the last Saturday at 8am for a time of fellowship.
The Breakfast gathering includes a short devotional and/or testimonies which serve to both enlarge our faith and cement our relationships.
Every August a well attended golf tournament is held to raise money for Light for the Lost.
We have had additional get togethers over the years such as Iron Sharpens Iron, Honor Bound, and week-end retreats. Future activities are being planned.
Sunday Mornings and Wednesday Nights
Children's ministry
Sunday School:
We believe that the traditional Sunday School is not a "thing of the past" and that the regular teaching of God's Word is the foundation of our growing Church. Classes meet on Sunday mornings at 9:30. There are classes for all ages from birth on up. We have children's classes ministering to the needs of each age group.
Faith Kids Children's Church:
Active, hands on learning is important for the Preschooler (3-5 years old) to develop spiritually, socially, intellectually, and emotionally. On Sunday morning at 10:45 we use Bible stories, puppet shows, worship songs, and various centers such as craft, art, home, and blocks so that the child learns that God loves them.
Faith Kids Super Church:
Designed specifically for the elementary child (1st – 6th grade), Sunday's Super Church is a high energy service for boys and girls packed full of activities, games, and teachings all designed to reinforce the Biblical lesson of the day. They are taught the need for a personal relationship with God, the fundamentals of the faith, and how to live a Christian life from day to day.
Wednesday Evening Programs:
Rainbows- Planned lessons, crafts, and activities promise three and four year old boys and girls a fun and spiritually enriching Wednesday night (7 PM-8 PM).
Faith Kids Bible Challenge- Boys and girls ages 6-12 will enjoy this action packed Wednesday night (7 PM). They will be involved in games, fellowship, refreshments, music, races, art, competitions, prayer, and prizes. These activities are all tools to reinforce important lessons about the Bible, about God, and about our need for a relationship with Him. The teachers love to challenge the kids to discover who God has created them to be, and give them opportunities to be creative, use their talents, and make new friends. Kids are taught how to read and study the scriptures, and how to defend their faith.
Lift Youth Ministries
If you are interested in meeting other teens, playing games, or learning about how to make it through the teen years as a Christian, join us!
Lift Youth Group is an exciting and energetic time to hang out, have fun, and have discussions about God.
We have dedicated teens that come out every Wednesday night at 7:00. Lift takes several trips every year, and tries to reach out to the youth of our community with the Gospel of Christ.
Please feel welcome to join us and get involved in a great youth group!
Offering help for today and hope for tomorrow.
Victory's Journey Ministries
Offering help for today and hope for tomorrow.
Key verse: Philip. 1:6
Motto: Look and Live
"Victory's Journey"
is a ministry dedicated to helping emotionally and spiritually wounded women find healing through small sharing groups. We believe that by establishing an atmosphere of acceptance and confidentiality, women will feel free to explore their past, take a look at it, and deal with it according to Scriptural principles. Jesus Christ offers life abundant, and it is our desire to see God's daughters enjoy the life He gives .
"Moving On"
is a group ministry that helps men of God fulfill their potential. Men in these groups find support, understanding and accountability. By sharing memories, praying together and learning to apply Scriptural truths, group members grow into the individuals they were created to be.
The leaders in these groups are not professional counselors but they have been trained in ministering God's Word as it applies to emotional healing. They are caring and supportive as they lead the hurting along the journey to joy.
Faith Groups
Faith groups are built on the hobbies and interests of several people from Faith Community and will always involve a spiritual aspect. The purpose is to create groups that non-Christians would be interested in attending and have fun while representing Christ.
Group attendance is open to anyone! If you are interested in leading your own group, please contact Pastor Patrick.
Men's Breakfast | Rick Rhinehart | Last Saturday of every month | 8 AM Williams Restaurant

Moving on for Men | John Uhler | As Announced

Ladies Prayer | Pastor Gretchen | Wednesday at 9 am

Ladies Bible Study | Pastor Gretchen | Wednesday at 10 am

Victory's Journey | Pastor Laverne | As Announced

First Place for Health | Tina Kester | Sundays at 9:30 am

Worship Team | Patrick Weber | Sunday Main Service

Sunday School | Sharon Larks | Sundays at 9:30 am

Family night | Ministry for all ages | Wednesdays at 7 pm